Therapy socks or therapeutic socks are known as compression socks or stockings. These socks or stockings are effective in reducing various leg symptoms when the compression graduates in the socks. These socks are helpful for those people who stand on their feet for longer periods of time all day, who are at risk or have diabetes, and also those who have some circulatory problems.
These therapy socks come in different sizes and also have different pressure strengths. The different pressure levels are measured in mmHg. Higher the number greater is the compression. Higher number with firm fit prevents DVT. Mild compression with a lower number is generally adequate to keep one's feet comfortable while standing at work.
The therapy socks need to be worn during the day and should be removed at night before going to bed. It is recommended that while wearing these socks the legs should be kept in an elevated position to reduce the ankle swelling. One can wear socks, slippers, and shoes over the compression stockings.
It is suggested that before wearing these therapy socks one should converse with the health care provider. Some people do not require using these socks and if done then, it might aggravate the conditions like the varicose veins.
Certain types of compression socks are available over the counter (OTC) but some socks which are medical grade need to be purchased by prescription only.
Therapy socks for people with sensory problems such as peripheral neuropathy is a big no as these people cannot feel the pressure if the socks are too tight and further might worsen the existing condition.
Benefits of Therapy Socks:
1. Prevents blood clots in people who fly or drive for longer periods of time.
2. Helps to control discomfort caused due to varicose veins.
3. Improves blood circulation.
4. Provides comfort to the feet.
Uses of Therapy Socks:
1. People who stand all day long.
2. People who are recovering from surgery.
3. Leg ulcers (Venous leg ulcers).
4. Pregnant women.
5. People those who spend long stretches of time in aeroplanes.
6. Patients those who are bedridden.
7. Varicose veins.
8. Deep vein thrombosis (DVT).
9. Ankle oedema.
10. Diabetes.
Make of Therapy Socks: 
The compression socks or stockings are made from an elastic type of material and generally come in white colour. Nowadays, there are some coloured stockings and socks available in the market.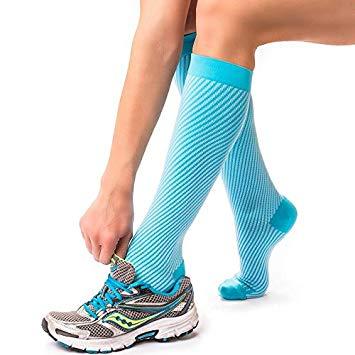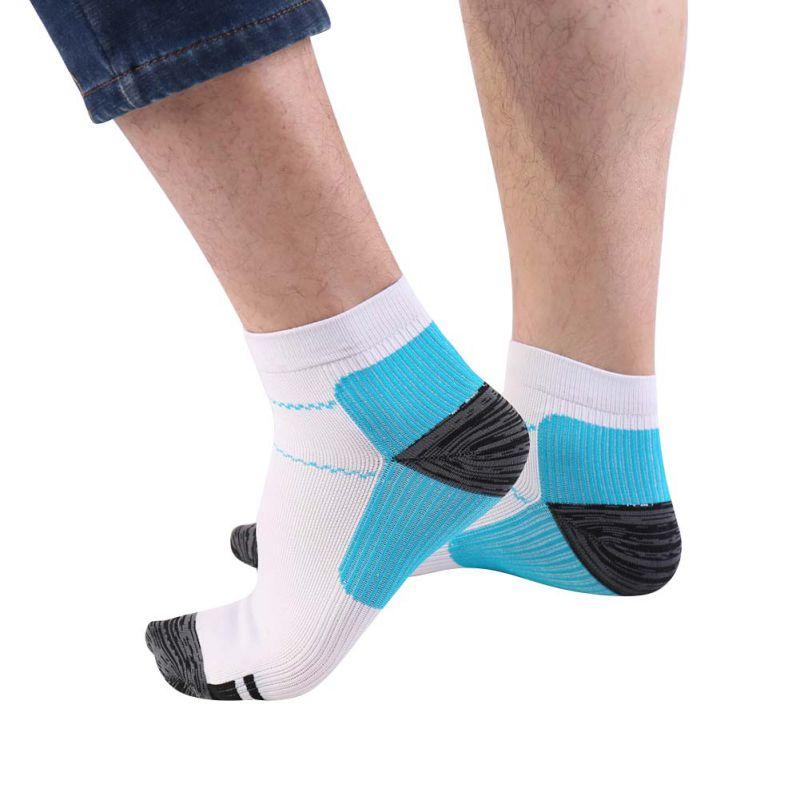 Frequently Asked Questions: 
1. What is the purpose of wearing diabetic socks?
Diabetic socks are commonly worn by people who suffer from diabetes. These socks have a close fitting and are non-restrictive. The socks are designed in such a way that they help in relieving the pressure on the foot or leg and also help in reducing the risk of foot ulcers.
2. Are compression socks similar to diabetic socks?
Compression socks are not the same as diabetic socks. The compression socks are meant to increase the constriction so that blood can return to the heart. People who suffer from peripheral arterial disease along with diabetes require compression socks as they help in blood circulation and also reduce swelling.
3. Why one should not wear compression socks to bed?
The pressure applied by the socks on the ankle and calf can cut off the circulation during night time. Compression socks move the blood flow away from the feet and the blood flow might get blocked when lying down. The compression socks with the lowest compression of 15mmHg and below should be worn in the night only if required.
4. What are the side-effects of compression stockings?
The side-effects for compression socks consist of; broken skin, skin irritation, discomfort, and temporary dents on the skin.
Where to buy it?
Therapy socks are available in Hyderabad at:
TrueCare Surgicals (Store 1)
Address: H.No 1-100, G2, Hitech City main road, Opposite Indian Oil Petrol Pump, Madhapur, Hyderabad, Telangana 500081.
TrueCare Surgicals (Store 2)
Address: Nizampet X road, Near Sri Holistic Hospital, Behind Vasireddy Swagruha Foods, Kukatpally, Hyderabad, Telangana 500072