A type of accessory that completely covers the head during surgery along with other surgical clothes is known as a surgical cap. It has to been worn by all the surgical team members along with the patient undergoing the surgery. By wearing this hair fall can be restricted to avoid further contamination or complications during an operation.
The surgical cap being a part of the dress code has to be worn each and every time when in an emergency room, operation theatre or even for that purpose, the laboratory. Wearing surgical caps help in maintaining hygienic conditions. These caps come in green, blue and white colour and also have different sizes.
Surgical caps are of two types: Disposable and Non-disposable. The non-disposable caps are made of fabric and can be washed and re-used. But nowadays the disposable ones are mostly preferred.
Benefits of Surgeon Head Cap:
1. Comfortable.
2. Easy to wear.
3. Disposable.
4. Washable.
5. Elasticated.
6. Tear resistant.
Uses of a Surgeon Head Cap:
1. In operation theatres and emergency departments.
2. Cleaning rooms.
3. Foodservice.
4. Laboratories.
Make of a Surgeon Head Cap:
The surgical caps are made of light and soft nonwoven fabric. The materials which are used in making the surgical caps are latex free and skin-friendly too.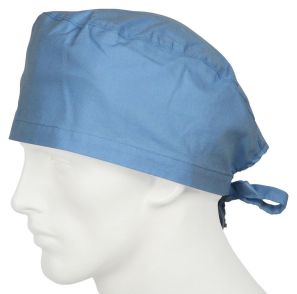 Frequently Asked Questions
1. Why do surgeons wear caps?
Surgeons need to wear surgical caps during the surgery because even if the hair is clean and washed they may be contaminated with bacteria and dirt. These caps minimize the risk of hair fall during the surgery and also in the sterile area. The hair should be completely covered by the surgical cap before commencing any surgical procedures.
2. What is a bouffant cap?
The bouffant cap is a type of loose cap that has a puffy shape and is secured around the head with elastic. These are generally used in food industry, clean rooms, and laboratories. These caps completely cover the loose hair and avoid hair fall in any of the sterile conditions.
Where to buy it?
Surgeon Head caps are available in Hyderabad at:
TrueCare Surgicals (Store 1)
Address: H.No 1-100, G2, Hitech City main road, Opposite Indian Oil Petrol Pump, Madhapur, Hyderabad, Telangana 500081.
TrueCare Surgicals (Store 2)
Address: Nizampet X road, Near Sri Holistic Hospital, Behind Vasireddy Swagruha Foods, Kukatpally, Hyderabad, Telangana 500072