Devices that are manufactured for the consumer which either prevent or strain out inhaled airborne particulate matters like vapors, microbes, harmful gases from inhalation and make fresh air available for breathing are called as Pollution masks.
These masks have high-quality filters fitted into them which help in the prevention of inhaling any harmful pollutant which contains particulate matter 2.5.
How to choose a pollution mask?
1. Choose a pollution mask that is either internationally standardized or certified by the National Institute for Occupational Safety (NIOSH).
2. Opt for a mask that fits your face properly. It should cover the face and nose completely so that the outside air does not enter.
3. The mask should be very well ventilated.
4. Select such a mask whose material is able to filter out smallest particles and which is soft in feel so that it is comfortable to wear.
5. The mask should be able to filter out 95% to 99% of particles which are smaller than the particles with particulate matter 2.5.
Types of Pollution Masks
Pollution masks are available in many different types according to their capacity to filter out the particles.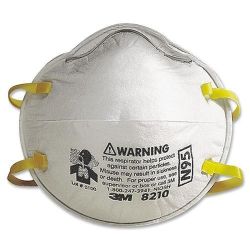 1. N95 Masks
Most commonly used masks. They are inexpensive and easily available. According to the number that it specifies this mask is able to filter out 95% of particulate matter which ranges from 0.3 to 2.5. These masks do not give any protection against gasoline, carbon monoxide, low oxygen atmospheres, and lead.
These masks should be used only for 2 to 4 days or discarded if wet or dirty on the inside. They are available in one size. The cost of this mask ranges from around 90 to 150 rupees.
2. Totobobo Mask
Designed in a unique way this anti-pollution mask has the efficiency to filter out 92% to 96% airborne particles, particulate matter 2.5, virus, dust mites, smog, cement dust, wood dust, and cigarette smoke.
This mask is equipped with a single pair of 92% filters.
It is very light in weight and can be reused. The Totobobo mask is made up of transparent flexible plastic which completely covers the face and nose. It consists of these white filter pads which help in spotting the particulate matters that have been trapped onto it.
This mask is not suitable for filtering out carbon monoxide, ozone, and volatile organic vapors.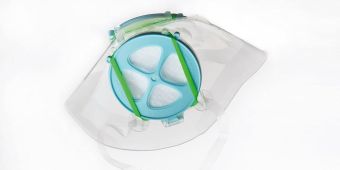 This mask can be used maximum up to 14 days or the pair of filters should be changed if it turns gray in color due to the deposition of the particulates or pollutants.
The mask is also equipped with this one patented technology which helps in finding out leakages. The internal surface of the mask becomes transparent when it touches the wet skin and this transparent watermark makes it easy to identify if there are any gaps in the mask.
The cost of this mask is approximately 2000 to 2500 Rupees each.
3. Cambridge Mask
These kinds of masks were developed by the Ministry of Defence, UK. They are using the Military Grade Filtration expertise in making this mask. These masks filter particulate matter from 0.3 to 2.5 and dust of PM 10.
After wearing this mask one gets completely protected from inhaling particulate pollution, viruses, bacteria, and harmful gases.
This mask is made up of three layers which include; the first primary outer layer that catches hold of the pollutants; second is a three-ply micro-particulate filter and lastly the inner layer which consists of a filter that is made up of pure activated carbon cloth which is also the military grade filter.
These masks come in all sizes that are meant for children to adults. This mask is reusable.
These masks are perfect for those who are cyclists, people those who are suffering from any respiratory disease or are at risk for respiratory disease. Cost of this mask is approximately 2000 Rupees.
4. N 99 Mask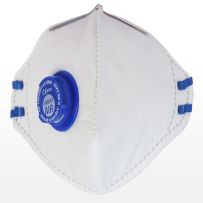 As per the name these pollution masks have the capacity to filter 99.97% particulate matter ranging from 0.3 to 2.5 along with the volatile organic compounds (VOC), dust, bacteria, and virus. Like the N95 masks, these are also not resistant to oil-based pollutants.
Generally, these are NIOSH (National Institute for Occupational Safety and Health) accepted. These masks are washable and reusable. The N99 masks can be used for around 5 to 6 months.
Cost of these masks start from 175 rupees and go up to 2000 rupees.
5. Respro Mask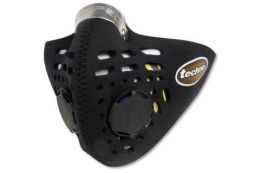 This particular pollution mask filters out particulate matter rating PM10. It fits properly on the face as it's stretchable. It can be used for up to 69 hours and not more than that.
Costs of this mask range from 750 to 1000 rupees. This mask is available in only three sizes.
6. Surgical Mask
This mask is not meant to be used for air pollution. It does not give any protection towards it. They are used during surgeries in the operation theatre, in laboratories while conducting some experiments, also used by dentists while treating the patient etc.
It needs to be disposed of after each use. It has a standard size and fits everyone. These masks are very low-priced with 2-5 rupees each.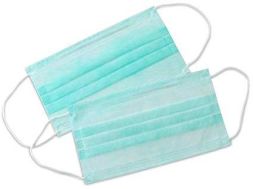 Frequently Asked Questions
1. How long one can wear a disposable mask for?
Disposable masks should be discarded when they look dirty or after 8 hours of use. These masks don't help much in giving protection from air pollution.
2. Can the filters in Respro Masks be washed?
Yes, the filters can be washed but hand washing is recommended instead of a machine wash.
3. What all materials are used in the pollution mask?
The VOG masks are made up of the following components:
a) An outer layer is the polyester microfiber which is printed with the help of vegetable-based inks.
b) N99 polypropylene filter is the middle layer.
c) The active carbon layer.
d) One way exhale valve which made up of plastic.
4. What is the difference between mask with valve and mask without the valve?
Breathing happens through the microfiber filter and exhalation happens through the plastic valve. The exhale valve that is present confirms a seamless outflow of the exhaled air so that the wearer does not feel moist upon wearing the mask. Mask with two exhale valve is recommended for people who are active as in running, cycling brisk walking etc.