A Respirometer is a medical apparatus or a device which is used to measure the volume of air that is inhaled and exhaled by the lungs. This device helps the lungs to retrain and also assists in how to take slower and deeper breathes which could be difficult for someone who has undergone surgery or a COPD exacerbation and may find it painful to breathe on his own.
Benefits
1. Lung infection can be avoided with the use of a Respirometer.
2. It strengthens the lungs.
3. Exercises the lungs so that they can efficiently supply oxygen into the body.
Make
The Respirometer is made up of a plastic base plate with three transparent chambers with designated volume and each chamber consists of a colored ball or a sphere. The central part is attached to a tube with a mouthpiece which has an integrated filter. The balls rise uniformly when the user inhales.
Use
Respirometer is used in the following conditions:
1. Pneumonia
2. Breathing difficulty due to fractured ribs.
3. Surgery on the chest or belly.
4. Chronic Obstructive Pulmonary Disease (COPD)
5. Cystic fibrosis.
6. Asthma
7. Chronic bronchitis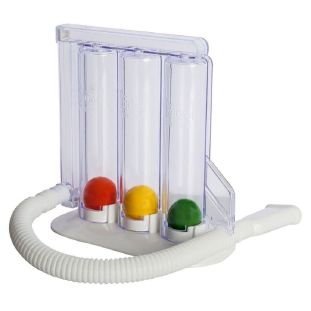 Frequently Asked Questions
1. What does the Respirometer measure?
This Respirometer measures the volume of the air exhaled over the course of one minute of normal breathing.
2. Which process occurs in both aerobic and anaerobic cellular respiration?
Aerobic respiration takes place in the presence of oxygen and anaerobic respiration occurs in the absence of oxygen. Both these types begin with the glycolysis which is the breakdown of glucose. The glycolysis is an anaerobic process as it does not require oxygen to progress.
3. How does a Respirometer work?
When oxygen has consumed the pressure of the gases inside the Respirometer decreases which then causes water to enter the pipette. When carbon dioxide is formed it combines with potassium hydroxide (KOH) and forms a solid precipitate which is K2CO3.
Where to buy it?
Respirometer is available in Hyderabad at:
TrueCare Surgicals (Store 1)
Address: H.No 1-100, G2, Hitech City main road, Opposite Indian Oil Petrol Pump, Madhapur, Hyderabad, Telangana 500081.
TrueCare Surgicals (Store 2)
Address: Nizampet X road, Near Sri Holistic Hospital, Behind Vasireddy Swagruha Foods, Kukatpally, Hyderabad, Telangana 500072