What is a glucose meter?
A glucose monitor is a meter that is used to measure your blood glucose i.e., the concentration of glucose in your blood. It is a small medical device, the usage of which assumes significance for those who are afflicted with hypoglycemia or diabetes mellitus.
Accu-Chek Active, Accu-Chek Aviva and Contour Plus Machine are different meters used to adjudge how the glucose level in your blood is faring.
The whole of Accu-Chek Active as well as Accu-Chek Aviva was the brainchild of Roche Diabetes Care while for Contour Plus Machine, it is Contour.
Features: 
Accu-Chek Active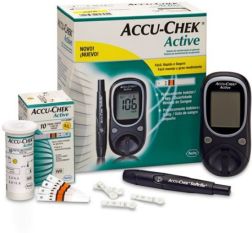 It's a small and lightweight personal health device with a large plus easy-to-read display
It has just 2 buttons and is hence easy to operate
It displays results in 5 seconds when the test strip is inside the meter and in 8 seconds when the test strip is outside the meter; in case you need to re-dose, you'll just have to wait for 10 seconds to proceed
The visual double-check feature is used to view your most recent test result
It reports the test result averages over 7, 14, 30 and 90 days
The testing is simple and convenient and you can also set pre-meal and post-meal reminders
There are safety warnings and alerts in case the test strips have expired or are underdosing
It can store around 500 test results in its memory
Automatic power-off is triggered within 30 or 90 seconds based on the operating status
Even if you change your battery, your date & time settings won't change because they are preset
Additional specifications
Temperature: +8 to +42°C ( during testing )
-25 to +70°C ( storage without battery )
-20 to +50°C (storage with battery )
Humidity: up to 93% relative humidity
Measuring range: 10 mg/dL – 600 mg/dL, 0.6 mmol/L – 33.3 mmol/L
The volume of blood: 1-2 μL
Battery life: Around a year
Data transfer from the meter to your PC can be done with the help of a USB cable. On your PC, you'll have to install the Accu-Chek diabetes management solution to facilitate the analysis of the transferred data.
Accu-Chek Aviva
This device has a large and easy-to-read LCD display
It displays the required results in just 5 seconds with the help of Accu-Chek Aviva test strips
Test averages over 7, 14, 30 and 90 days are displayed
You can save up to 500 test results as well as 20 control tests in this device
You can set pre-meal and post-meal reminders in this device
This device automatically gets switched on once you insert the test strip into it
It also gets turned off automatically after a few seconds
Without the battery, its memory and time can be stored for around 72 hours
Since everything is preset, you don't need to waste any time in setting up the device
Additional specifications
Temperature: 8°C to 44°C (46°F to 111°F)
Conditions for storage: -25°C to + 70°C (-13°F to +158°F)
The volume of blood: 0.6µL
Battery life: can handle around 1000 tests
Data transfer is done through Infrared (IR)
Contour Plus Machine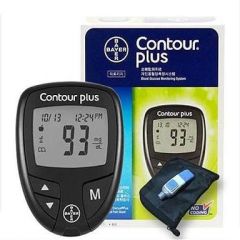 You don't need any extra training for operating this device; its usage is fully self-guided
Test results appear in just 5 seconds
It displays test averages over 7, 14, 30 and 90 days
You get pre-meal and post-meal reminders and alarms so that you don't forget to test
It offers the facility of Second Chance Sampling whereby the meter sends you an alert when more blood needs to be added to the test strip as a result of it being under-filled
You just have to remove the strip from the meter to turn the device off
There are absolutely no setup requirements for this device
The strips have a lasting life up till their expiration date
Usage: 
A lancet is used to prick your skin to extract a tiny drop of blood.
Inside meter: The test strip is inserted into the meter by following the direction of the arrows. Apply the drop of blood to the test strip and the result will be displayed in 5 seconds and the meter will get automatically turned off while it simultaneously removes the test strip from it.
Outside meter: Dosing is done outside the meter so that contamination is avoided especially in cases where there are multiple users like in a hospital. Here, when the flashing drop symbol appears, take out the strip from the meter, apply the blood drop and re-insert it in less than 20 seconds.
If you want to re-dose, apply the blood to the test strip within 10 seconds after having applied the first drop of blood.
The meter then makes its readings to measure your blood glucose.
The results are displayed in units of mg/dl or mmol/l.
After usage, tightly close the test strip container.
If you need to know whether your blood sugar levels are normal again, these are the perfect products for you to buy!