What are crutches?
Crutches are mobility aids that help increase the base support of people who might encounter problems while trying to walk in a balanced manner. By using crutches, your leg weight will be shifted to your upper body.
Benefits of using crutches
By reducing the burden of weight on your legs, crutches will help you gradually improve your stability and walk without any other hassles
People with short-term as well as long-term disabilities get to benefit from its usage because it helps in correcting their upright posture and navigate their movements in places which a wheelchair cannot access
It has other benefits other than aiding circulation by improving upright body movement; it avoids excessive calcium loss and helps in the better functioning of your kidney and lungs
Using crutches can also engage your abdominal region
Types of Crutches
Axillary Crutches:
This is one of the most commonly used crutches and is also called as the Underarm Crutches. It is height-adjustable, especially when it's a wooden or aluminium model. You can also find a spring mechanism near the bottom of the crutch that helps in spurring you on when you take your next step as you walk.
The padded tops of this crutch should be positioned under your armpits in a way that creates a distance of around 5 cms between the top and your armpit.
These crutches also have hand-grips which are to be held onto to help you steady yourself. The hand grip should be at the same level as your hips with your elbows bent.
You should take care to avoid the padded tops of the crutch from applying too much pressure on your armpits.
The weight from your legs will be transferred to your arms and shoulders thus releasing pressure while you walk. This stabilizes your torso and works the muscles in your abdominal region as well.
The young and athletically inclined groups are known to use this crutch commonly.
Forearm Crutches:

These are also called as the Elbow Crutches and it consists of a handgrip and a forearm cuff. For the forearm cuff, you just have to insert your arm into the cuff and solidify your grip.
These crutches should make it possible to flex your elbow at angles of 15°-30°; this will assist you in handling a heavier weight.
The forearm cuff should be positioned at a distance of 2.5cm-4cms from below where the back of your elbow is.
There are ergonomically designed forearm crutches as well that increase convenience and help minimize the risk of injuries.
Polio patients are known to widely use these crutches.
Leg Support Crutches: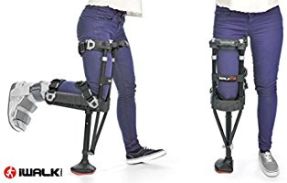 In the case of leg support crutches, the impaired leg is to be secured to a wheeled support frame.
In the case of these crutches, the burden of weight is transferred to either the knee or the thigh.
These crutches do not demand the use of your arms or hands.
They cannot be used by patients saddled with hip, thigh or pelvis issues.
This is a commonly used crutch when the injury has affected just one lower leg. It's also said that it decreases upper thigh atrophy.
Gutter Crutches: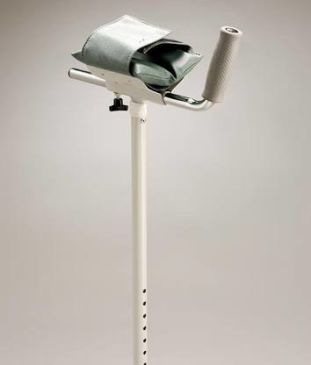 These are also called the adjustable arthritis crutches and it consists of an adjustable hand-piece as well as a forearm support that is padded.
The design of these crutches helps distribute the weight through your forearms with the help of a trough.
Its height, as well as the length of the hand-grips, can be adjusted.
It boasts of a security velcro strap that helps increase the comfort and security level.
Gutter crutches are commonly used by people who suffer from Rheumatoid and those having limited wrist/hand strength.
Strutter Crutches: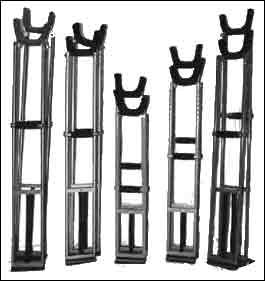 This is a sort of underarm crutch, the tips of which stay flat on the floor. They were designed in a way that cut down on the complications associated with an underarm crutch. These problems included aneurysms, nerve damage, and blood clots.
The strutter crutches are designed in a way that doesn't exert pressure on the nerves or the blood vessels
Its design helps in distributing your weight and making your gait more even and balanced.
Platform Crutches: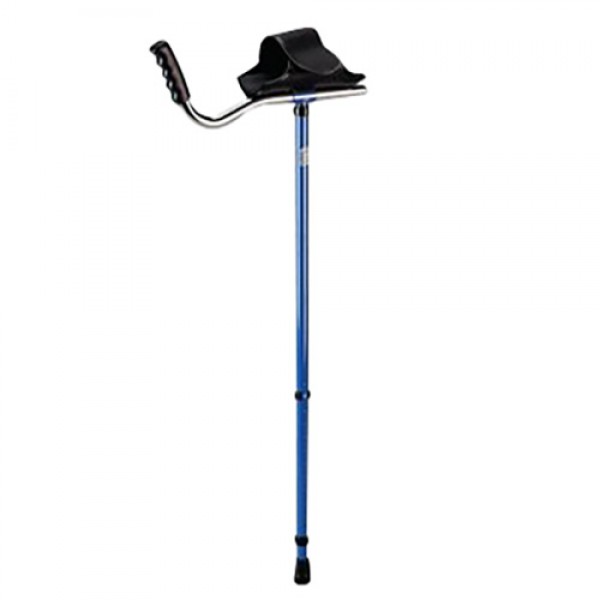 These are also called as the triceps crutches. In these crutches, there is a horizontal platform secured by velcro-straps where you can place your forearm.
While holding the platform crutches, they are to be placed at a distance of around 5cms below the skinfold of the armpit.
To improve stability, the lower cuff should be positioned 1cm-4cms below the back of your elbow
Based on the level of disability, adjustments can be made to its length.
The upper extremity has paddings to maximize comfort.
Those affected by cerebral palsy, arthritis and other similar conditions that affect the wrist are the ones who usually rely on these crutches.
Walking patterns
Depending on the intensity of your body strength, balance, your weight-bearing capacity plus the type of mobility aid you use, there are different types of gait you can choose to adopt.
2-point: As is evident from its name, only two points touch the ground and quite a good amount of balance is needed to walk. The movements are in the sequence – right crutch with the left leg followed by left crutch with the right leg.
3-point: When your lower extremity struggles with balancing its weight, the 3-point gait pattern is adopted wherein 3 points namely two points of the crutch and one unimpaired lower extremity is in contact with the floor.
4-point: This is slower than the 2-point gait but is comparatively more stable and safe. It's adopted when you have poor balance and grapple with co-ordination issues while moving around. The movements are in the sequence – right crutch, left leg, left crutch and then right leg.
Swing-to gait: Here, the movements involve lifting your affected leg initially before fixing both ends of the crutches in front of you. When this is done, you have to swing your unaffected leg to be even with the position of the crutches. This gait also works by swinging both the legs and fixing them in the front of the crutches rather than on their side.
Stairs: Going up and down the stairs requires a different kind of gait. When proceeding upwards, the unaffected leg is to be taken forward before the affected leg followed by the crutches. While going down, the crutches are to be moved forward followed by the affected leg and then the unaffected leg.
Usage
The most significant aspect that precedes the importance of learning how to use the crutches is the customization of the crutches to your height and stability requirements.
What initially needs to be done is the transfer of all the weight from your leg to your healthy leg or your upper body.
Next, you need to fix the crutches in front of you at a point where you can move over to with a stable movement.
When you take the next step, the crutches bear your weight and it's your body you'll be swinging before you get to the next point.
It's to be stressed that instead of pressing down on and transferring the weight to your armpit, you need to mobilize support through the hand-grips fixed to the crutches. If you don't follow this, you'll be at the risk of getting affected by a condition called crutch paralysis.
Never hurry your pace. Walk slowly and as steadily as possible and maintain only a little distance between where you're currently positioned and your next step.
If you want to fight issues with bearing weight head-on, crutches can be relied on to come to your rescue!