Pneumatic walkers are alternatives to casting for lower limb immobilization following an injury or a surgery. For someone who has undergone a foot or ankle surgery or has a sprained ankle pneumatic walkers are best alternatives to casts. In Fact, they also help in early recovery without making you immobilized.
Features of a Pneumatic Walker
Lightweight.
Economical
Provides ideal Pneumatic compression that decreases edema
Universal fit
Rock sole promotes a natural gait
Soft cushions to increase stability and compression
Adjustable and has a hand pump for adjusting your level of support.
Benefits of a Pneumatic Walker
Removable
Provides support during walking
Weighs lighter comparatively
Portable
Is soft and has cushion thus is more comforting
Easy to wear and there is lots of space for dressing.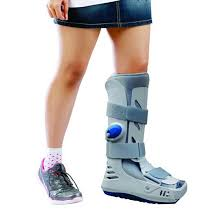 Instructions
Place your foot into the pneumatic walker after you unstrap it.
See that your foot gets snug into the soft liner properly.
Then fold the liner and strap up the pneumatic walker.Tighten the straps.
Pump air into the air bladder.
see that you pump an equal amount of air on both sides of the walker.
The air bladders are to stabilise your ankle, make sure the pressure doesn't hurt your ankle.
Incase you are unable to place your heel properly in the walker then it might be a sign that air bladders are overfilled.
See that you don't wet your pneumatic walker.
There are many models varying in length and material choose the one you are comfortable with.
FAQ's
1. Can i wear socks with the walker boots?
Yes, wearing socks with your pneumatic walker boots makes you feel a bit comfortable and also it is easy to clean ur socks rather than the soft lining of your pneumatic walker.
2. How do i clean pneumatic walker?
Remove the soft liner from the frame and wash in warm water with a mild detergent. Allow it to air dry completely before placing it back in the frame.
Do not put them in washing machine or dryer as they get damaged.
The frame can be cleaned by using a cloth.
3. Do I have to keep my walker boot on when I sleep?
It is recommended that you wear the boots during sleep by loosening the straps,in some cases, you can sleep without it if said so by the doctor. But placing pillows around the injured foot ensuring that foot has support is a must.
4. Can I drive with a pneumatic walker on?
No, it is highly recommended not to drive when you have an injured foot though you have a pneumatic walker on.
5. Is it ok if the pneumatic walker gets wet?
No, it is not recommended to wear a wet walker boot and that is because you might end up having rashes or skin allergies. You can dry your pneumatic boot with a hair dryer keeping it on low speed. Avoid putting them in washing machine or dryer as it may damage the walker boot.
6. What do i do if my leg swells while using the pneumatic walker?
We recommend you consult your doctor but for temporary relief, we advise you to loosen or unfasten the straps and place your legs on a pillow.