A knee support or brace is medical support used for an injured or inflamed knee. Use of this prevents excessive movement of the knee. Most commonly it is used by athletes, sportsperson, people who extensively workout at the gym for hours and also by the patients suffering from arthritis and for a rehabilitative purpose.
The knee supports or braces provide suitable compression and fasten the recovery process. It can be worn by people who have suffered an injury or have intensive exercise routines.
Knee braces are classified into four categories and they are as follows:
Prophylactic: These braces are designed in such a manner that they help in preventing and reducing the ligamentous injuries to the knee. Most frequently used by athletes indulging in contact sports like football. These braces protect the knee joints from being injured again and again.
2. Functional: As the name states this type of braces or knee supports are used to support knees which are already injured. These kinds of braces are also useful in reducing rotation following an ACL injury or tear and also for rehabilitation after the surgery.
Rehabilitative: These knee braces or supports limit the harmful knee movements while the patient is recovering from an injury or a knee surgery. These help in protecting the repaired ligament and allow early motion of the knee joint. They can also be used to prevent recurring injuries.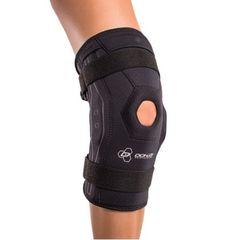 4. Unloader or Offloader: These braces are designed for patients who have arthritis in the knee. Especially for the people suffering from medial compartment knee osteoarthritis, these braces are of great use. As per its name, these braces unload the stress from the affected knee joint and place the pressure on the thigh bone which in turn helps the knee to bend away from the painful area. These braces can be of use for the patients who need to undergo knee replacement surgery.
Benefits of a Knee Support
1. It is abrasion resistant.
2. Waterproof and stretchable.
3. Provide stability and support to the knees.
4. Protects the graft post-surgery while healing.
5. Limits range of motion post-surgery.
6. Provides medial and lateral support to the knee.
Uses of a Knee Support
1. To prevent knee injuries.
2. For knee pain.
3. For an injured knee.
4. Bursitis.
5. Tendonitis.
6. Ligament tears.
7. Worn out cartilages.
8. Muscle sprains and strains.
Make of a Knee Support
Knee braces are made up from combinations of metal, plastic, elastic or neoprene, foam materials. There are regular hinged knee braces which are commonly used and are made from non-latex neoprene material and have either pull on or wrap around Velcro strap with metal hinges to stabilize knee sprains or mild arthritis and minor injuries.
According to the different designs the materials of the knee support change. They are available in many sizes and colors as well. The main part of the knee support is the Velcro strap which helps in adjusting the knee brace for a proper fit.
Neoprene is one such material which acts an insulator and helps in relieving pain in the affected area and also retains heat and improves blood circulation which eventually speeds up the recovering process.
Frequently Asked Questions
1. Can knee supports or braces be worn all day?
Yes, knee support or braces can be worn all day. If anyone has to participate in any sport or activity then one should wear the knee support according to that particular activity or sport.
2. Can someone sleep with a knee brace?
No, generally it is not recommended to wear knee support or brace while sleeping.
3. Do knee support help in arthritis?
Yes, the knee support or braces are effective for patients with osteoarthritis. These also help in reducing the arthritis pain and stiffness of the joint.
Where to buy it?
Knee Supports are available in Hyderabad at:
TrueCare Surgicals (Store 1)
Address: H.No 1-100, G2, Hitech City main road, Opposite Indian Oil Petrol Pump, Madhapur, Hyderabad, Telangana 500081.
TrueCare Surgicals (Store 2)
Address: Nizampet X road, Near Sri Holistic Hospital, Behind Vasireddy Swagruha Foods, Kukatpally, Hyderabad, Telangana 500072