It is a type of mobility device for the disabled or elderly persons who require an added support to maintain balance or stability while walking.
Indications
The walker or the mobility aid is indicated for people with the following conditions:
1. Cerebral palsy
2. Developmental disabilities
3. Arthritis
4. Fractures to the lower limbs
5. Visual impairment
6. Sprains and strains
Types of Walkers
1. Standard Walker: It has anti-skid four legs whose tips are covered with rubber caps which in turn give proper support and stability to the walker. The patient needs to pick up the walker while walking.
2. Two-Wheel Walker: This kind of walker has wheels on the front two wheels. This kind of walker is helpful for those who need support but not for constant time.
3. Bariatric Walker: This type of walker is designed for large or heavy individuals who need to maintain their balance and require some stability while walking.
4. Pediatric Walkers: These kinds are developed for babies who are already able to bear their body weight and take steps to walk. This walker simply helps them to provide support while walking.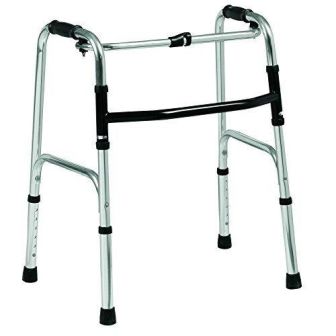 Benefits
1. It helps in providing complete independence to the persons who are not able to walk properly.
2. The height of the walker can be adjusted so that it suits everyone.
3. It is portable and foldable.
4. Light in weight.
Make
1. The walkers are generally made of aluminum and hence are light in weight.
2. The grips are comfortable to hold and are made up either from foam, gel or rubber.
3. The tips of the legs are covered with rubber caps. They are designed in such manner so that it prevents the walker from slipping and keeps it stable.
Uses
1. The walkers are used for those people who are recovering from any leg or back injuries or surgeries.
2. People who have difficulty in walking or have mild balance problems.
Frequently Asked Questions
1. What is a standard walker?
It is a walking aid which is considered according to its use of platforms at the bottom of each leg rather than wheels. The wheels reduce friction and make the movement easy and hence, the standard walkers provide greater support and stability.
2. What is the difference between a rollator and a walker?
Both of them are designed for mobility or balance purposes. The main difference is that the walker does not have wheels and a rollator has four wheels and brakes.
3. How to size a walker?
Before starting to walk with the help of a walker the walker should be adjusted to a proper height. When standing up straight the walker hand grip should line up with the crease at the wrist. There should be a slight bend in the elbow when one grasps the handles of the walker.
Where to buy it?
Iron Walkers are available in Hyderabad at:
TrueCare Surgicals (Store 1)
Address: H.No 1-100, G2, Hitech City main road, Opposite Indian Oil Petrol Pump, Madhapur, Hyderabad, Telangana 500081.
TrueCare Surgicals (Store 2)
Address: Nizampet X road, Near Sri Holistic Hospital, Behind Vasireddy Swagruha Foods, Kukatpally, Hyderabad, Telangana 500072