What is a waterbed?
In vogue back in the 70s and 80s, waterbeds have had quite a bumpy ride up till today. A waterbed commonly called as a water mattress is a mattress that is filled to the brim with water. It is made from PolyVinyl Chloride material which promotes durability.
Depending on their size, their costs can hover from around Rs 2000 to even Rs 150000!
Who needs a waterbed?
Paralytic and comatose patients are suggested to use these mattresses.
Arthritis and Rheumatism patients can find them immensely relieving.
Waterbeds are perfect for those who suffer from a backache, lumbar pain and bed sores.
Decubitus ulcer, Multiple sclerosis, Cerebral palsy, and Asthma patients can use them.
Waterbeds can be used by infants, albeit with constant monitoring in order to prevent asphyxiation.
Types of waterbeds
The two main types of waterbeds are the hard-sided ones and the soft-sided ones.
Hard-sided:
These mattresses have no fixed structure. They need to be supported by a frame, typically made of wood, along with a pedestal in order to maintain its structure.
Here, the water is just filled in the vinyl case with no room left for factoring in elements of design or comfort.
These mattresses don't always provide for unregulated heating because there's nothing to attach a heater. Also, it's a task to even get out of this waterbed because of their uneven outline.
This is the traditional type of waterbed that needs California sized sheets, thus cutting down the number of options available.
However, there are certain new versions of this model with tweaked features that provide for maximum comfort. It's usually bought by people who prefer to experience a wavy feeling while sleeping. It also combats arthritis and aches.
Soft-sided:
These mattresses were developed to compensate for the inadequacies posed by hard-sided mattresses.
It basically has a small chamber filled with water that is positioned in a way that promotes maximum durability. This is surrounded by foam on all sides of the bed; it is encased in a fabric which rests on an upholstered box.
The soft-sided mattresses acquire their shape from these foam bolsters. This design makes it unlikely for sharp objects to be able to penetrate into the chamber.
These mattresses employ traditional linens and thus have a larger market demand. It's also way easier to get out of this type of waterbed.
They can be used by those who want their beds to be well-supported but want the surface to not be firm like a traditional bed.
Specifications (in inches)
Hard-side waterbed:
Queen size: 60 x 84
King size: 72 x 84
Super Single size: 48 x 84
Soft-side waterbed:
Twin size: 39 x 75
Double size: 54 x 75
Queen size: 60 x 80
King size: 76 x 80
Cal King size: 72 x 84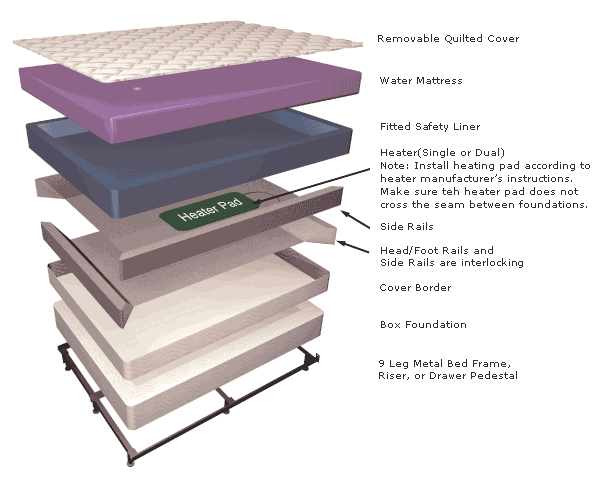 How does it work?
Setting up the waterbed involves a few important steps:
Initially, all small debris need to be removed and cleaned out
Next, the waterbed heater should be installed with the heating pad positioned between the deck boards
For certain heaters, a thermostat can be mounted to either side of the frame
For those heaters that have sensors, a sensor tube can be fixed between the frame and the heating pad
It's advisable to give the heater a test run
The waterbed safety liner needs to be installed in the frame once all this is done
In case you bought a protective cover, lay it out either on the head or foot of the bed
Finally, the waterbed should be carefully placed inside the waterbed safety liner or the protective cover
To fill it with water, remove the seal from the mattress fill
Connect a hose to a faucet connector and use a Perfect Union attachment to fill the mattress with water. Use only warm water.
Maintenance
The most important and obvious response is to fill the mattress with water. A waterbed requires around 235 gallons of water and needs to be filled as and when required.
You have to add a waterbed conditioner on an annual or semi-annual basis. This is to keep the vinyl from being brittle, to give your waterbed a longer life and to prevent the mattress from smelling due to the presence of algae.
Draining your waterbed is another important requirement and can be done with the help of a garden hose, pump or a drain kit.
Also, you might have to fix leaks occasionally because the corners are susceptible to rips. For this, it's wise to keep a vinyl repair kit handy that consists of vinyl cement and a repair patch.
Care should be taken to keep the waterbed away from sharp objects, nails, and animals as well.
Benefits
Waterbeds provide a lot of relief from pain to arthritis patients. They distribute weight and soothe the joints away from too much stiffness.
The provision of regulated heating creates a feeling not dissimilar to having a fresh hot bath when your muscles are sore.
They help increase unrestricted and smooth blood flow and minimize the risk of developing blood clots. This is effectuated by reducing the pressure applied to each area and spreading the weight throughout your entire body.
For a lot of people, lumbar (lower back) pain is a common occurrence and is almost a given for those who are engaged in manual labor. Waterbeds provide a welcome solution by working as a form of support for the lumbar.
Backaches also start to abate because these mattresses distribute the entire weight across the whole body, removing pressure from the back and stabilizing the joints. This causes the spine to relax and reduces pain immensely.
Waterbeds also combat insomnia in a huge way. These mattresses are extremely comfortable to sleep on, soothes your back, muscles, and joints and induce sleep. Waterbeds quite naturally lull you to sleep.
They wage a war against ulcers or bed sores which are quite common. It doesn't take long before such sores are fully healed.
These mattresses generally are modeled in a way that keeps its surface clean and reduces the absorption of allergens or dust mites. So if maintained properly, a waterbed can be a perfect dust repellent surface.
They give a feeling quite similar to that sparked off by floatation therapies. They immensely help in healing several ailments like cerebral palsy, cystic fibrosis, sleep apnea in newborns etc.
While purchasing a waterbed, there are a few boxes you'll have to check. The level of comfort offered by each type of waterbed varies since the amount of motion is different for each. Prices of each kind of mattress are also not the same. Accordingly, the warranty will differ as well.
All these need to be considered before you make up your mind about the kind of waterbed you'll be zeroing in on. Buy the one that best suits your needs in order to get the best results.
Precautions
Keep away from sharp objects
Check for leaks regularly
add images of all three types for the reader to understand better visually