A nasal aspirator is a small device which uses suction to remove snot or mucus from the baby's nose. With its easy use, the baby can breathe normally in thirty seconds approximately. There are three types of nasal aspirators.
1. Bulb nasal aspirator: These are made of rubber and are bulb shaped. These aspirators are inexpensive and can be used only once. These aspirators are used only when the infants mucous is thin and runny nose makes it easier to suck in through it. This type is easily available but very difficult to clean. Hence, should be used once and then discarded.
2. Human suction nasal aspirators: As per its name this type of aspirator is parent controlled. It is the most effective type of aspirator as the suction is totally controlled by the parent. In this type of aspirator, there is a mouthpiece which the parent needs to put in the mouth and suck in to draw out all the snot from the baby's nose.
3. Electric nasal aspirator: This type of aspirator does not require any kind of sucking and squeezing. This electric nasal aspirator uses batteries for its operation. In this type, the parents just have to start the push button on the device and put it in the baby's nose gently and then have to wait for it to drain all the mucous present in the nose. The speed of the suction is weak and cannot be adjusted hence it may take time for the suction. These are easy to clean also.
Benefits of a Nose Cleaner
1. It is Bisphenol A (BPA), Phthalate and latex free.
2. They are available in three sizes of 1, 2, and 3 ounces.
3. Reusable.
4. Easy to clean.
5. Easy to use.
Use of Nose Cleaner
1. To relieve a baby's nasal congestion.
Make of a Nose Cleaner
1. Bulb nasal aspirator: It is made of rubber. The bulb-shaped aspirator has a pointed tip which has to be inserted into the baby's nose. The rubber bulb needs to be squeezed before inserting it into the nose. These are also known nose bulbs or bulb syringes. Difficult to clean hence can be used only once.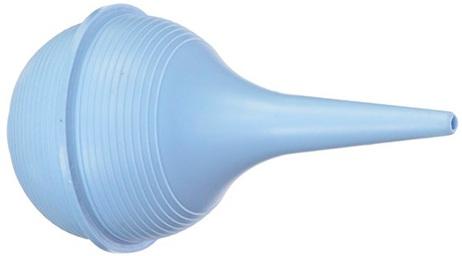 2. Human suction nasal aspirator: It consists of two parts connected with a transparent plastic tube or pipe. The first part consists of a blue tube that needs to be inserted into the baby's nose and a second part is a red colored mouthpiece that needs to be put into the mouth of the parent who can further suck into it to draw out the snot from the nose. The force of the suction can be controlled. It is easy to clean and also has replaceable mouthpieces.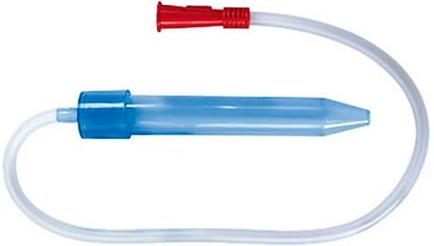 3. Electric Nasal aspirators: They are also made of plastic and consist of a small pointed nozzle which is inserted into the nose of the infant and with the help of a push button the device can be started. The suction of this aspirator is constant but limited. These work on batteries and can be frustrating when they need replacement.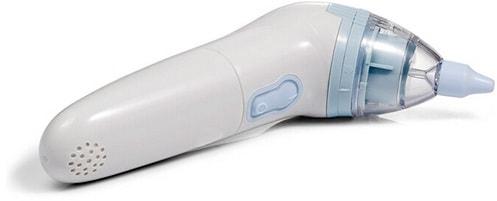 Frequently Asked Questions
1. How to clean the baby's blocked nose?
Generally, saltwater nasal drops or an infant nasal suction bulb is used to clear the mucus from the baby's nose. One should seek medical help if the baby has any difficulty in breathing after suctioning.
2. How long does baby's cold last?
Generally, a baby's cold last for five to seven days as they are caused by viruses. If in any case, the cold symptoms last for more than 10 days then pediatrician visit is essential.
3. Is it safe to use nasal aspirator on a baby?
It is safe to use the nasal aspirator on a baby. It should only be used when the effect of saline nasal drops do not decongest the baby. The nasal aspirator should always be cleaned after every use.
Where to buy it?
Nose cleaners (infants) are available in Hyderabad at:
TrueCare Surgicals (Store 1)
Address: H.No 1-100, G2, Hitech City main road, Opposite Indian Oil Petrol Pump, Madhapur, Hyderabad, Telangana 500081.
TrueCare Surgicals (Store 2)
Address: Nizampet X road, Near Sri Holistic Hospital, Behind Vasireddy Swagruha Foods, Kukatpally, Hyderabad, Telangana 500072