A medical aid that is used to support a patient's neck is known as a cervical collar. It can be used in emergency conditions to those people who have undergone a traumatic head or neck injuries. The cervical collars are used as a first-aid to prevent any further injuries until the medical personnel determines a fracture by taking an X-ray.
The cervical collars stabilize only the top seven vertebrae which are C1 to C7. These help in relieving pain and also realigning the spinal cord. Constant use of a cervical collar is not recommended by medical professionals.
Benefits of Cervical Collar
1. Controls pain by restricting the movement of the neck.
2. Stabilizes the injured area.
3. Immobilizes the neck and spine during healing.
4. Provides ample support to the cervical region.
5. Easy to use
6. Portable
7. Washable
Uses of Cervical Collar
A cervical collar is used for the following indications or purposes:
1. To reduce the mobility of the neck.
2. In postoperative care.
3. Cervical neuralgia.
4. Neck sprain or stiffness.
5. Cervical spondylitis.
6. Acute or chronic painful cervical syndrome.
Make of Cervical Collar
The cervical collars are of two types; a. soft collar and b. rigid collar
A. Soft Cervical collar
This type is made up of durable high-density polyurethane foam. It also comes with a thick LDPE sheet which provides uniform support and cushioning. Further, it is covered with fawn colored cotton stockinet which is hypoallergenic. It also has a long hook and loop tape that fits around the neck properly and ensures complete support and immobilization.

B. Rigid Cervical collar
This type is made up from moulded plastic along with a removable padded liner in two pieces. One is the front piece and other is a back piece. Both these pieces are fastened with a Velcro for the exact fit. This type is used to limit the neck movement during a recovery from a fracture or a surgery.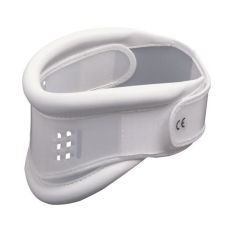 Frequently Asked Questions
1. How long a cervical collar should be worn?
The cervical collar has to be worn all the time unless the surgeon instructs and until the spine has healed or fused. The time span could be 6 weeks or it could be as long as 4 to six months.
2. How tight should be the cervical collar?
The collar should be snug enough so that the head does not move and chin does not slide inside or stick out over the collar. The lower edge of the collar should rest against the body comfortably with only the padded area touching the skin.
3. What is the best treatment for cervical spondylosis?
Cervical spondylosis can be treated at home by taking some over the counter NSAIDs like ibuprofen and naproxen sodium. Ice packs or heating pads can also be used on the neck to relieve pain for the sore muscles.
Where to buy it?
Cervical collars are available in Hyderabad at:
TrueCare Surgicals (Store 1)
Address: H.No 1-100, G2, Hitech City main road, Opposite Indian Oil Petrol Pump, Madhapur, Hyderabad, Telangana 500081.
TrueCare Surgicals (Store 2)
Address: Nizampet X road, Near Sri Holistic Hospital, Behind Vasireddy Swagruha Foods, Kukatpally, Hyderabad, Telangana 500072