Shoulder pulleys are a type of exercise tools normally found in physical training, home or therapy clinics. These are used to perform exercises to improve the range of motion of the shoulders. These pulleys can be permanently attached on the wall or temporarily on the door frame.
Shoulder pulleys are designed for recovery and rehabilitation after surgery or injury to increase strength, mobility, and range of motion.
Benefits of a Shoulder Pulley
1. Strengthens the muscles.
2. Stretches muscles and tissues.
3. Increases blood flow in the injured arm.
4. Easy to use.
Uses of a Shoulder Pulley
1. Frozen shoulder.
2. Rotator cuff injury.
3. Bursitis.
4. Arthritis.
5. Tendonitis.
Make of a Shoulder Pulley
1. This tool consists of an anchor which can be hanged on the door for an overhead workout.
2. There is a nylon rope whose length can be adjusted according to the individual.
3. It also has soft foam handles for firm grip and comfort while performing any workout.
4. Sometimes the shoulder pulleys have color-coded ropes with distinct black marks on them which help in tracking the progress of the rehabilitation throughout the recovery process.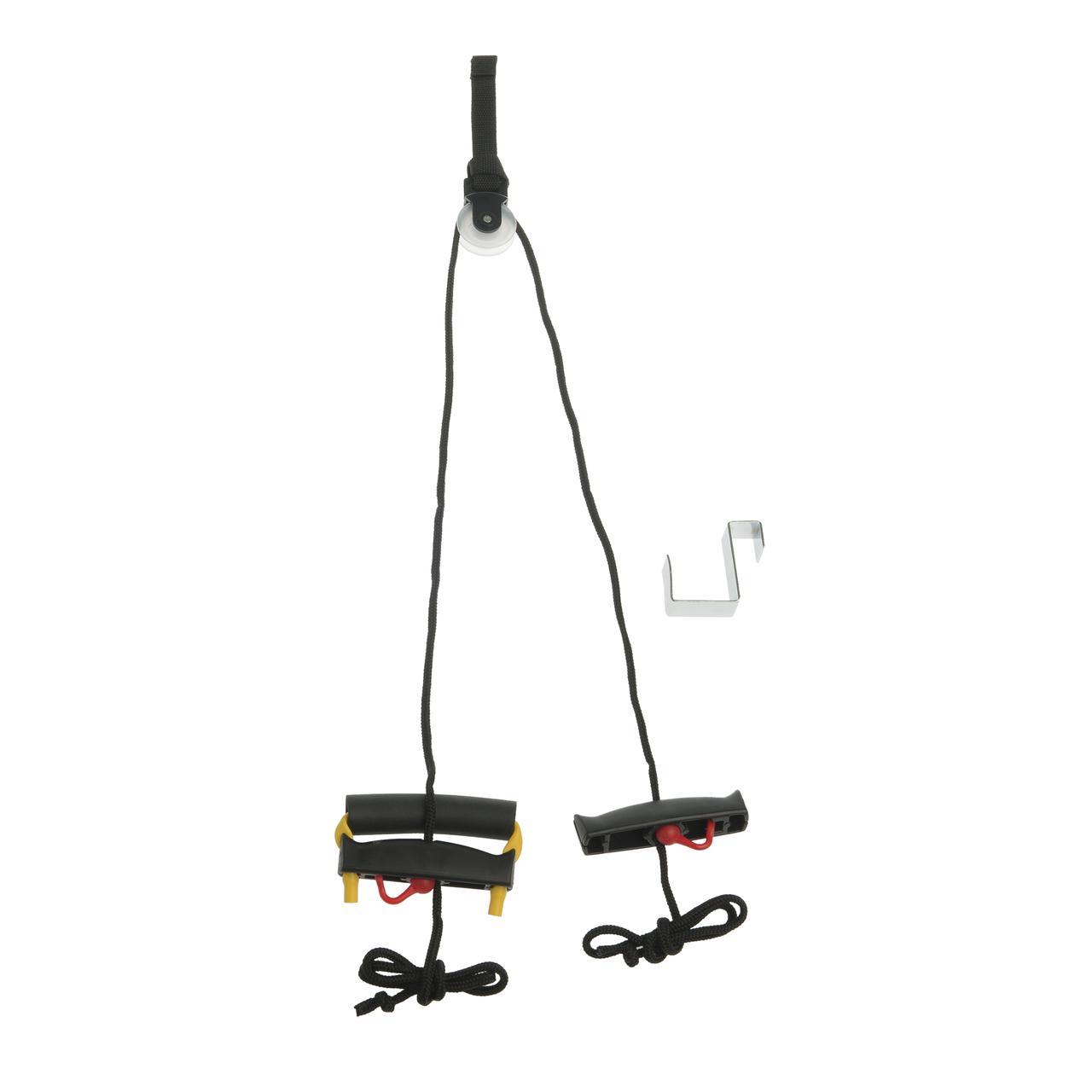 Frequently Asked Questions
1. What is shoulder wheel exercise?
Shoulder wheel is just a mechanism that is used in rehabilitative exercises of the shoulder. This mechanism allows the patients to perform the resistance exercises which help in improving the range of motion and also relieves pain.
2. How to use a pulley?
If there are a single wheel and a rope then a pulley helps in reversing the direction of the lifting force. The rope should be pulled down to lift the weight up.
3. What are the three types of pulleys?
The three main types of pulleys are fixed pulley, movable pulley, and a compound pulley.
4. What is a shoulder ladder?
It is a repetitive exercise tool that is designed to enable bilateral active or active-assistive gross motor abilities. In this, the person has to hold on to a wooden bar and climb the ladder by placing the bar in higher and higher slots of the ladder.
Where to buy it?
Shoulder pulleys are available in Hyderabad at:
TrueCare Surgicals (Store 1)
Address: H.No 1-100, G2, Hitech City main road, Opposite Indian Oil Petrol Pump, Madhapur, Hyderabad, Telangana 500081.
TrueCare Surgicals (Store 2)
Address: Nizampet X road, Near Sri Holistic Hospital, Behind Vasireddy Swagruha Foods, Kukatpally, Hyderabad, Telangana 500072