What are Varicose Veins?
The varicose vein is a condition that causes your veins to dilate and get enlarged as a result of a failure in the functioning of your blood flow to the heart. These veins usually acquire a red or bluish purple color and can be pretty painful.
This condition is not uncommon with women mostly getting afflicted by it. You might get it due to factors like menopause, pregnancy, obesity and often as an upshot of having crossed a certain age.
Why does Varicose Vein Stockings come into the picture?
If this condition hasn't spared you, there's a high chance your doctor will recommend a lifestyle change for you plus the usage of Varicose Vein Stockings which are basically compression stockings.
Varicose vein stockings help in compressing your veins so that your blood continues to move in the correct direction. The compression level is usually tight near your ankle and becomes milder towards the upper portion of your leg.
Benefits of varicose vein/compression stockings
They improve the circulation of blood. This is accomplished when the pressure applied rouses your arteries and veins and galvanizes them into action
Helps you fight back pain and reduces feelings of discomfort
Prevents the condition from deteriorating any further
Helps dodge numerous diseases like spider veins and chronic venous insufficiency
Battles fatigue, tiredness, cramps, restlessness etc.
They also provide succor in situations that can exacerbate pain like when you stand / sit for a long time, when you are jetlagged or when you're pregnant
A study conducted in 2018 found out that wearing compression stockings helped reduce pain at better rates than normal stockings.
It is also said that in the ancient times when Roman soldiers had to go for long marches, they used to make use of leather straps which were a similar version of these compression stockings to improve circulation.
What makes these straps different from the modern-day compression stockings is their sophisticated design which exerts much more pressure on your legs, thus giving your blood flow a major boost.
These compression stockings can either be thigh-high or knee-high.
Knee-high stockings rejigs the process of circulation in your lower leg.
Thigh-high stockings are mostly reliable when you need to avoid blood clots after surgeries.
Calf-length stockings also helps in avoiding swelling in the evening.
Types of compression stockings
Prescription stockings: These stockings apply maximal pressure effectively without hindering the process of circulation.
Compression stockings: These are not as tight as prescription stockings but are nevertheless convenient to use. They apply pressure in varying amounts.
Support pantyhose: This is the least tight and exert only a certain degree of pressure.
Levels of compression
Mild – If your chronic venous insufficiency is mild, you can use mild compression level to encourage healthy blood flow. It helps.in standing / sitting for a considerable amount of time. 15-20mmHg is the range prescribed for this compression level.
Moderate – If you're suffering from spider or varicose veins, the moderate compression level would be more effective. It helpd in preventing blood clots provide relief from pain. 20-30mmHg is the range prescribed for this compression level.
Firm / Extra firm – If you're experiencing comparatively more serious venous diseases like leg ulcers, deep vein thrombosis, swelling and lymphatic edema, the firm compression level should have relied on 30-40mmHg is the range prescribed for this compression level.
8-15mmHg is the lightest compression range and is often used by athletes to get rid of minor aches.
During pregancy, the risk factor for developing deep vein thrombosis shoots up because of soaring blood volume levels. That plus hormonal changes increases rick, which is why it is important to stay active and use compression stockings.
It's important to use these stockings because once your treatment process gets complete, wearing these stockings can help alleviate pain and compress the vein walls together.
What to remember while using varicose vein stockings
People usually put them on during the day because that is when they are most likely to be sitting upright and thus might be hampering the process of blood circulation. These stockings thus provide greater leeway for your blood to flow.
Before using these stockings, you should always remind yourself to sufficiently clean your legs.
It's important to stay aware that wearing the wrong size or using crinkled and worn-out stockings can have major side-effects like irritation in your skin and temporary dents in your skin.
These stockings shouldn't be worn for a long time too! This is because it's possible that you'll start encountering problems, minor as well as major somewhere along the way.
If you find it hard to pull the stockings up your legs, make use of corn starch or baby powder. Also, never allow your stockings to roll down your leg because it may start digging into your skin.
These stockings should be changed atleast once in every 3-4 months
If you feel that your skin is becoming increasingly dry because of the usage of these stockings, try applying moisturising cream before bedtime.
Sleeping / lying down horizontally assists your vein valves and allows them to function smoothly. This is because gravity will be a dampener if you ever sleep vertically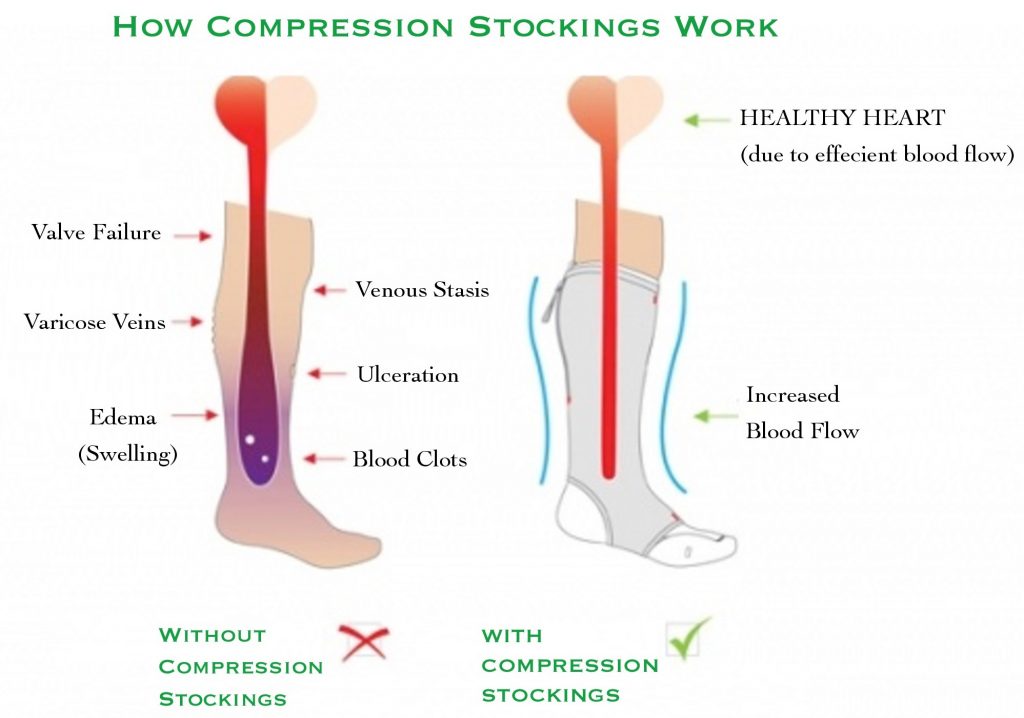 How do you know which one will be the perfect fit for you?
Arriving at the right size is extremely important to avail of all the benefits of these compression stockings.
Take a peek at the following steps so that you choose the right size for yourself:
Right before you lower your legs for getting out of bed, measure your legs.
In the case of knee-high stockings, the most wide area of your calves and the narrowest area of your ankles should be measured. Then sit up and form a 90° angle with your legs once you bend your knee. Now measure the entire length between your bent knee and the floor.
Thigh-high stockings require almost the same measurement process except for one more step towards the end. After eveything is done, stand up so that you can measure your thighs from beneath your buttocks and also the entire length between the floor and your buttocks.
Sometimes, your measurements might go wrong. It's okay to take the advice of your doctor regarding the measurements before you proceed to buy these stockings.
How to take care of your stockings
Use moderately cold water to wash your stockings
Never, just never use a dryer to dry your stockings. Hang it out to dry. It's as simple as that!
The detergent used should be mild and take proper care that you don't use a fabric softener.
Don't use a washing machine. Resort to hand-wash to clean it.
However, compression stockings aren't recommended for everyone because it's not suitable for all of us.
The National Institute for Health and Care Excellence (NICE) has said that the usage of compression stockings should be resorted to only if all other measures of treating varicose veins don't yield any results.