An adult diaper or a nappy is worn by a person, who is suffering from conditions like urinary incontinence, impaired mobility, severe diarrhea, and dementia. These products are also known as briefs or incontinence pads. These diapers mostly resemble the sanitary napkins.
There are two types of diapers one is the traditional cloth diaper and other is the disposable diaper. Cloth diapers are reusable and can be used for a home purpose. Whereas, the disposable ones are best for outdoor use.
Benefits of an Adult Diaper
1. Disposable.
2. Fits according to the weight.
3. Highly Absorbable.
4. Stretchable.
5. Leak-proof.
Uses of an Adult Diaper
1. Urinary incontinence with an uncontrolled bladder.
2. Fecal incontinence with uncontrolled bowels.
3. People who are bedridden or on a wheelchair and who have control over their bladder and bowel movement but unable to reach the toilet.
4. People with cognitive impairment.
5. Dementia.
6. Severe diarrhea.
7. Medical injuries.
Make of an Adult Diaper
The adult diapers are made out of three layers with three materials.
1. Top sheet: This layer of the diaper comes in contact with the human skin. The design of this sheet is made porous so as to absorb the liquid quickly by the core and keep the skin clean and dry.
2. The distribution or acquisition layer: This is below the top layer. The main work of this layer is to move the liquid away from the skin and distribute it through the diaper. This layer helps in keeping the skin completely dry. Some of them use superabsorbent polymers which help the diaper to absorb many more times its weight.
3. Absorbent core: The innermost layer of the diaper. It contains cellulose fluff pulp and polyacrylate granules which trap the liquid. This material also keeps the skin dry even when the diaper is full.
The adult diapers have hook and loop tape (Velcro) to adjust the fit.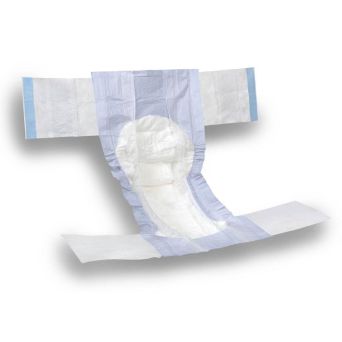 Frequently Asked Questions
1. How long do the incontinence pads last?
The incontinence pads are designed for use for up to three to five hours and not more than this. If used more than this, it can lead to poor hygiene and skin infections.
2. What is incontinence?
Incontinence is the inability to control either the urine or fecal elimination.
3. What are reusable underpads?
Reusable underpads are similar to reusable diapers. They can be washed in washing machine and can also be dried in a dryer. They are economical and can be used again and again.
4. What are the common causes of incontinence?
Incontinence can either be temporary or chronic. Temporary incontinence is caused by childbirth, limited mobility, urinary tract infection etc. and chronic incontinence is caused by bladder muscle weakness, nerve disorders, pelvic floor muscle weakness, birth defects, etc.
Where to buy it?
Adult diapers are available in Hyderabad at:
TrueCare Surgicals (Store 1)
Address: H.No 1-100, G2, Hitech City main road, Opposite Indian Oil Petrol Pump, Madhapur, Hyderabad, Telangana 500081.
TrueCare Surgicals (Store 2)
Address: Nizampet X road, Near Sri Holistic Hospital, Behind Vasireddy Swagruha Foods, Kukatpally, Hyderabad, Telangana 500072
Adult Diapers