Adult diapers are worn by people who are suffering from conditions like urinary incontinence, paralyzed, impaired mobility, severe diarrhoea, and dementia.
Nowadays, along with the normal adult diapers also known as briefs, there are new products called the Adult Pull-ups. The adult pull-ups or pull-on are designed like underwear and do not have tabs like the usual diapers.
The adult pull-ups are easy to wear and remove as it is similar in shape like underwear. These pant style diapers have tearable side panels which help in easy removal. This kind of design ensures that this pull-on once opened cannot be closed again. The underwear-like design does not harm the dignity of the user as they can enjoy freely without worrying about any leakages and the fear of being embarrassed.
These products are also disposable and are useful for any gender type. The adult pull-ups have coloured stitches on the waistband which indicate the front side of the underwear. The leg cuff provides an assured fit and protects against leakages.
Benefits of Adult Pull-ups
1. Easy to wear and remove.
2. Disposable.
3. Available in all sizes.
4. Unisex.
5. Odourless.
Uses of Adult Pull-ups
1. Patients with prostate disorders.
2. Dementia.
3. Diarrhoea.
4. Urinary disorders.
5. Patients those who are bedridden and disabled.
6. Paralyzed patients.
7. Patients with diabetes.
8. Post-delivery.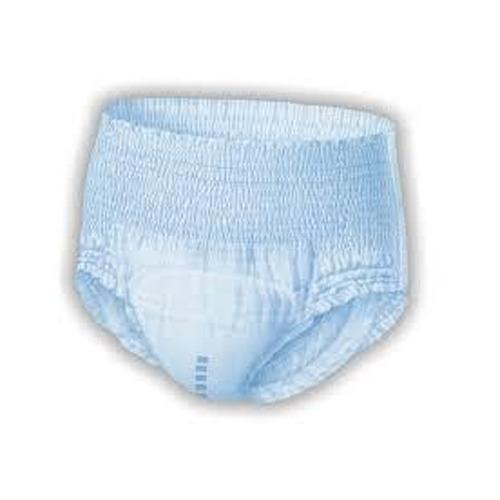 Make of an Adult Pull-ups
The adult pull-up consists of a front portion, a crotch portion, and the back side portion. Both the sides have elastic along the circumference of the waist and around the leg opening. Further, it has a pair of leg opening each with a leg cuff.
It consists of the outer unwoven cloth material, inner absorptive material either cotton pulp or an absorbent polymer, a waterproof polyethene film and an elastic material like polythene for flexibility. The inner super absorptive material eliminates odour by quick locking of the fluid.
Frequently Asked Questions
1. Are diapers and pull-ups the same?
Diapers and pull-ups are not the same. They both have the same absorption capacity. Pull-ups are more like padded underwear.
2. What should be the size of my brief?
The brief sizes are to be measured according to the waist or hip size of the user. Wearing the wrong size can cause discomfort and may result in leakage.
Where to buy it?
Adult pull-ups are available in Hyderabad at:
TrueCare Surgicals (Store 1)
Address: H.No 1-100, G2, Hitech City main road, Opposite Indian Oil Petrol Pump, Madhapur, Hyderabad, Telangana 500081.
TrueCare Surgicals (Store 2)
Address: Nizampet X road, Near Sri Holistic Hospital, Behind Vasireddy Swagruha Foods, Kukatpally, Hyderabad, Telangana 500072