Gym ball is a ball that is created from soft elastic and is filled with air. The gym ball is also known as an exercise ball, therapy ball, Swiss ball, etc. The diameter of this ball is approximately 35 to 85 cms.
The gym balls are used for athletic training, as an exercise tool in physical training institutes (gym), and in physiotherapy.
The gym balls come in varied sizes and colours. It is recommended that while using a gym ball the ball should fit the person's height and leg length.
Benefits of a Gym Ball:
1. Portable.
2. Helps in maintaining body balance.
3. Provides greater resistance to injuries.
4. Can be inflated and deflated.
Uses of a Gym Ball:
1. Increase stability.
2. Improve balance.
3. Increase abdominal and back muscle strength.
4. Increase lumbar mobility.
5. Develop core muscle strength.
6. Improve posture.
7. Exercise
8. Physiotherapy.
Make of a Gym Ball:
Generally, the gym ball is made of vinyl or plastic or solid foam rubber. Nowadays, most of the gym balls are made from burst-resistant, low odour PVC material which is free from common phthalates.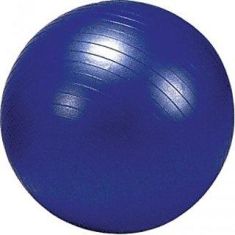 Frequently Asked Questions
1. What should be the size of the exercise ball?
The size of the exercise ball corresponds to the height of the person. The exercise ball should be 30 cm for an individual with height 4 ft. 6 in, 45cm if the person's height is between 4ft.6in to 5ft. If the individual's height is between 5ft.6in and 6 ft.2in then 65 cm ball should be used.
2. How long does an exercise ball last?
Typically, the exercise balls in the gym last for around 1 to 2 years. Exercise balls used at home last for over 5 years or so depending on how they are maintained.
3. What is anti-burst gym ball?
The exercise balls with an anti-burst rating are recommended for maximum safety and use. Anti-burst means these balls deflate gradually and slowly when punctured rather than bursting all of a sudden like a balloon.
4. How many calories can be burned while bouncing on an exercise ball?
While bouncing on an exercise ball one can burn around 2.8 calories per minute. A person who weighs 130 pound and workouts for 30 mins will burn 83 calories and for 60 mins 166 calories respectively.
5. What is the core ball?
It is an exercise ball but this ball is used for core strengthening exercises. This ball helps in increasing the core strength of the core muscles like the abdominal muscles, back muscles, and the pelvic muscles.
Where to buy it?
Gym balls are available in Hyderabad at:
TrueCare Surgicals (Store 1)
Address: H.No 1-100, G2, Hitech City main road, Opposite Indian Oil Petrol Pump, Madhapur, Hyderabad, Telangana 500081.
TrueCare Surgicals (Store 2)
Address: Nizampet X road, Near Sri Holistic Hospital, Behind Vasireddy Swagruha Foods, Kukatpally, Hyderabad, Telangana 500072
TrueCare Surgicals (Store 3)
Address: Near Nallagandla Bata Showroom, Beside Prestige Showroom, Opp side of Ratnadeep Supermarket, Nallagandla, Seri lingampally, Hyderabad.
Phone: 83090 78115