What is a theraband?
Therabands are also known as resistance bands. They are made of latex and are used for physical therapy and light strength training exercises.
Who is it for?
Therabands are mostly used by athletes but also by the common people who are looking for a low-impact strength training workout to maintain a healthy lifestyle.
It is usually used under the direction of a physical therapist or as a method of strength training at home.
It is also used by therapists in their clinics for physiotherapy treatments.
What are its benefits?
It can be used to exercise any muscle in the body.
It is lightweight and compact, thereby making it easier to carry while travelling. It can be carried in a purse, briefcase, laptop bag, luggage, pocket, etc.
It comes in different levels of resistances which when used in a variety of postures and motions, can be modified to suit one's specific needs.
There's no special requirement of space to use them. They can be used at home, office or hotel room.
It is one of the safest methods to increase bone strength. It also helps prevent osteoporosis.
They are also very cost-effective, thus allowing the general public to afford them too.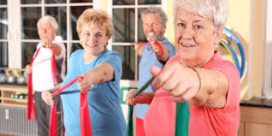 Types of Therabands
They come in two types- either in the form of a flat band or in the form of tubes.
They also vary in their tensions which can be identified by the colour specified to that particular band.
The colour specifications are as given below-
Theraband- Band/Tubing Colour

Resistance in Kilograms at-

100% Elongation
200% Elongation
Theraband- Tan
1.1
1.5
Theraband- Yellow
1.3
2.0
Theraband- Red
1.7
2.5
Theraband- Green
2.1
3.0
Theraband- Blue
2.6
3.9
Theraband- Black
3.3
4.6
Theraband- Silver
4.6
6.9
Theraband- Gold
6.5
9.5
Where to buy it?
Therabands are available in Hyderabad at:
TrueCare Surgicals (Store 1)

Address: H.No 1-100, G2, Hitech City Main Road, Opposite Indian Oil Petrol Pump, Madhapur, Hyderabad, Telangana- 500081

TrueCare Surgicals (Store 2)

Address: Nizampet X Road, Near Sri Sri Holistic Hospital, Behind Vasireddy Swagruha Foods, Kukatpally, Hyderabad, Telangana- 500072