In case of any rib injuries like rib fractures, rib dislocation or broken rib there is a surgical strap that is recommended for and it's known as the Rib Belt. It provides support to the affected area and also allows the person to breathe normally without any respiratory troubles.
How to Use a Rib Belt?
Rib belts are manufactured to suit the body structures of both male and female.
Male Rib Belt: These need to be worn around the chest at the base of the sternum. It is a two-tiered 6 inch (15cm) high, an elastic body which fits perfectly over the male body structure. They are available in all sizes ranging from small to 3XL.
Female Rib Belt: These are also two-tiered 6 inches (15cm) high, elastic back which tapers to 4 inches (10cm) in front and fits around the bust line for complete comfort. The belt is designed in such a manner that it fits in the curves of a woman's body. They are also available in all sizes from small to 3XL.
What is a Rib Belt Made of?
The rib belts are made up of latex-free knit elastic.
Structure of a Rib Belt
It is an elastic belt with a broad front hook and loop (Velcro) closure which offers a good flexibility. This closure being adjustable fits and helps in easy removal and application of the belt. The belts have absorbent webbing which helps in proper ventilation and comfort for the patient. A splinting pad is also incorporated into the belts which provide sturdy support and holds the ribs together. The rib belt is washable.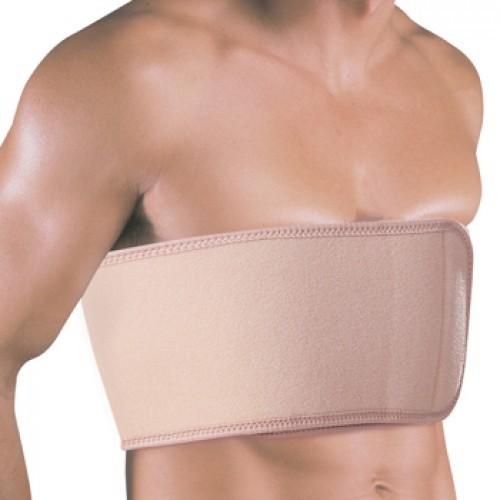 Properties of Rib Belt
1. Lightweight and comfortable.
2. Stretchable
3. Skin friendly
4. Perfect design that fits both male and female.
5. Unobstructive under the clothing.
6. Has exact compression.
Benefits of Rib Belt
1. Holds the rib cage in its position and reduces the pain of daily movements.
2. Delivers exact supporting pressure post-surgery.
3. Helps in keeping the affected area compressed and also tones the thoracic muscles.
Frequently Asked Questions
1. What is Rib Subluxation?
When a person breathes the ribs move continually at their spinal connection. The ribs are attached to the sternum with the help of cartilage which helps in this movement on breathing. During this, the course of breathing if the rib moves and does not come back to its original position then the new position starts to ache and is called the Rib Subluxation.
2. How long does it take for the ribs to heal?
The aim of any treatment for rib injury is to relieve the crucial pain which takes up to six weeks while the injury is healing. If in case the rib has been torn out from the cartilage then it may take 12 weeks for it's healing.
3. How long should one wear a rib belt?
Use of rib belt restricts motion in the chest and helps in relieving pain in the chest wall and the ribs. If this belt is worn for too long then problems like pneumonia can occur and hence, it is recommended that it should be worn for not more than one hour.
Where To Buy?
Rib Belts are available in Hyderabad at:
TrueCare Surgicals (Store 1)
Address: H.No 1-100, G2, Hitech City Main Road, Opposite Indian Oil Petrol Pump, Madhapur, Hyderabad, Telangana 500081.
TrueCare Surgicals (Store 2)
Address: Nizampet X Road, Near Sri Holistic Hospital, Behind Vasireddy Swagruha foods, Kukatpally, Hyderabad, Telangana 500072.